COVID Modu-Care, modular hospital
In response to the call for projects for innovative solutions to combat COVID-19 initiated by the French Ministry of the Armed Forces (Ministère des Armées), La Chaîne de L'Espoir (LCDE), La Salle Blanche (LSB) and architect Maria-Noel Garcia (NEL architecture) have developed a partnership to offer an effective, reliable, high-quality technical and medical solution supporting the safety of medical personnel and patients.
From their combined experience and reflections arose COVID Modu-Care, a modular hospital concept, based on structures in containers and/or modules tailored to specific functions and easily duplicable.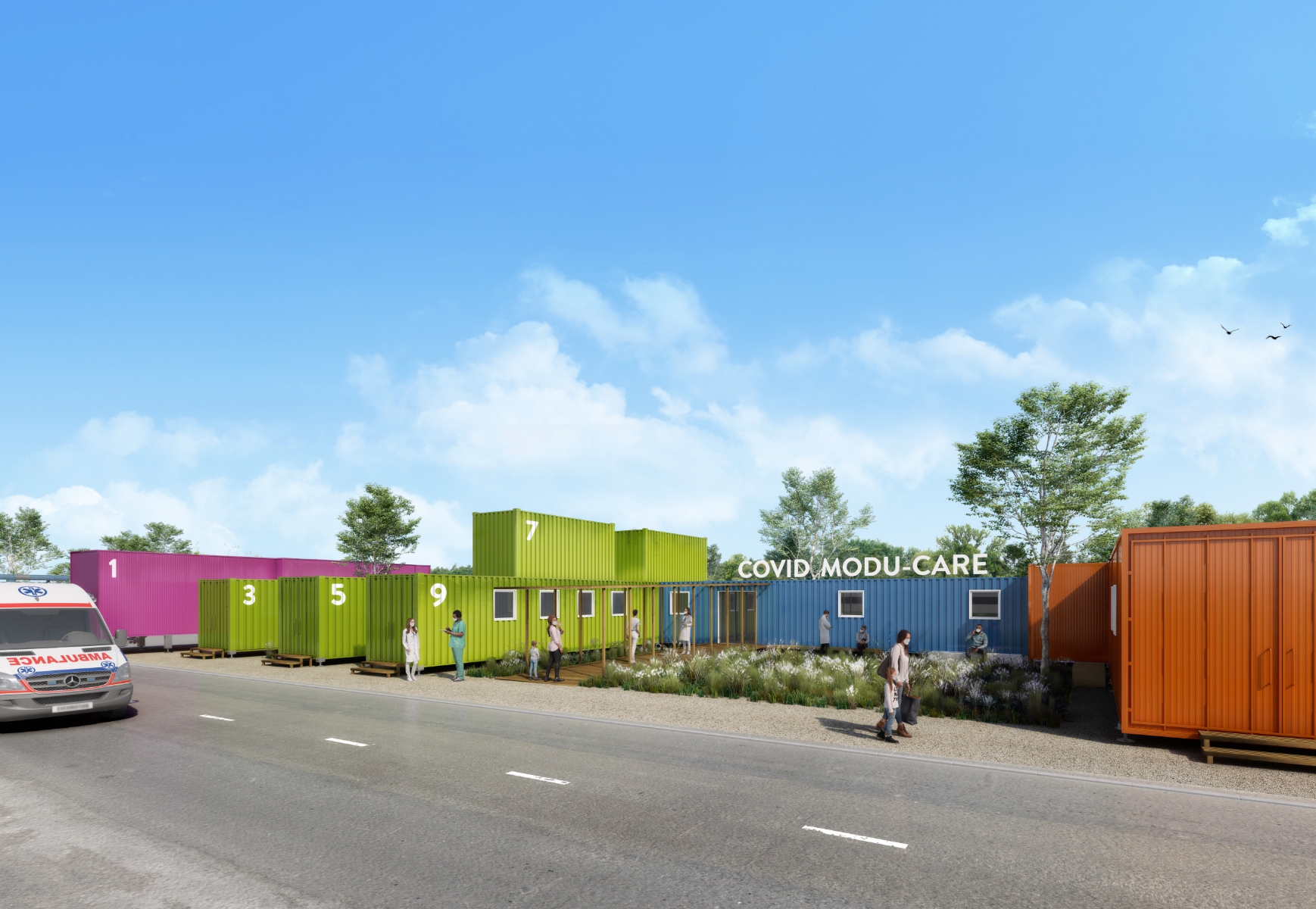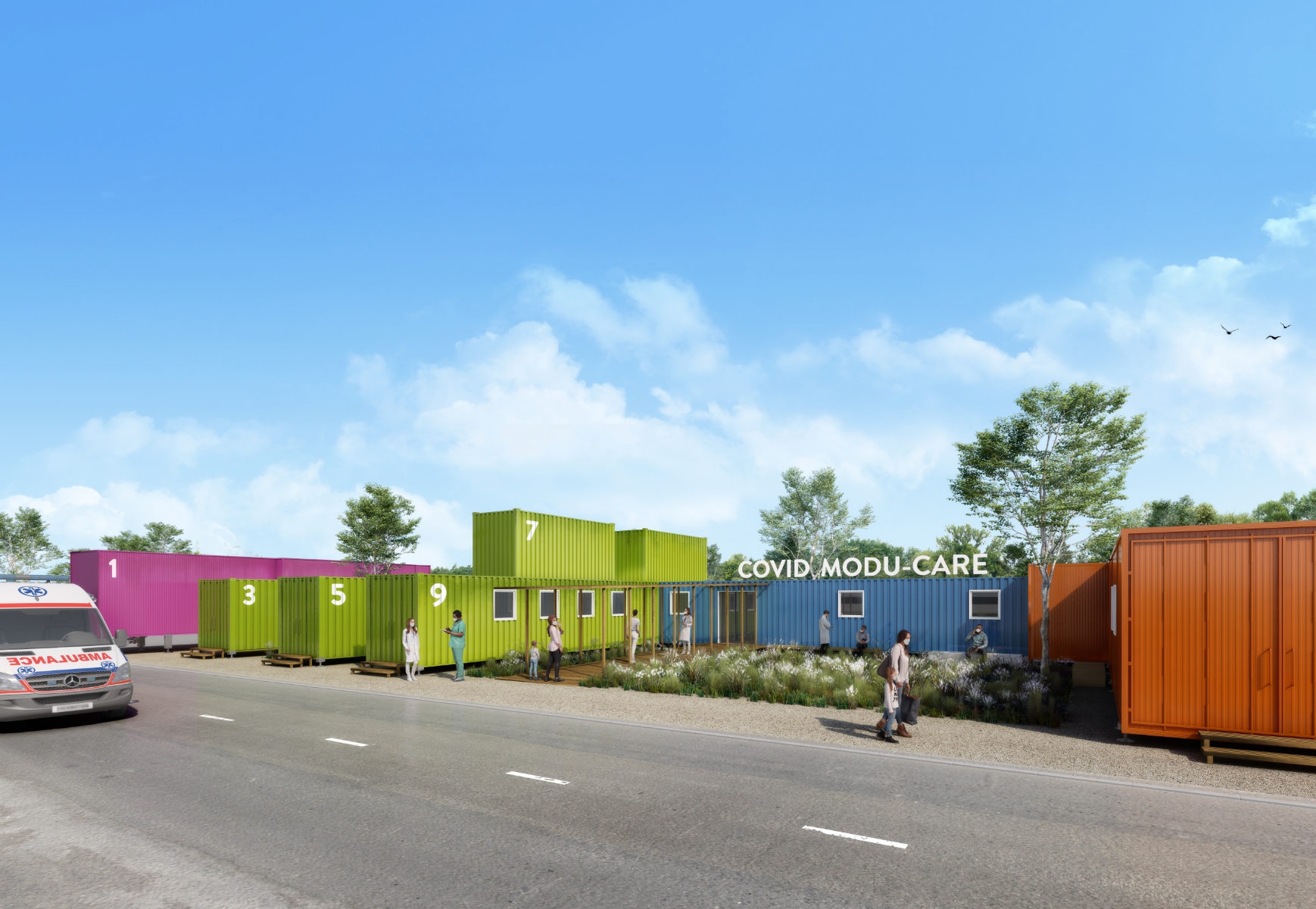 Tailored solutions for all types of patient care
The functional design of COVID Modu-Care fulfils a key objective: to provide facilities tailored to the specific needs of SARS-Cov-2 patients, at all stages over the course of the disease, featuring open and scalable general organisation and autonomy in terms of technical support.
The concept developed offers the possibility of custom composing each sector by adding primary-function sub-modules or an open number of specific-function sub-modules, corresponding to the different types of patient care.
The solution is broken-down into 5 functional sectors:
A COVID screening and diagnosis module
A COVID monitoring module
A COVID intensive care module
A COVID radiology module
A support facilities module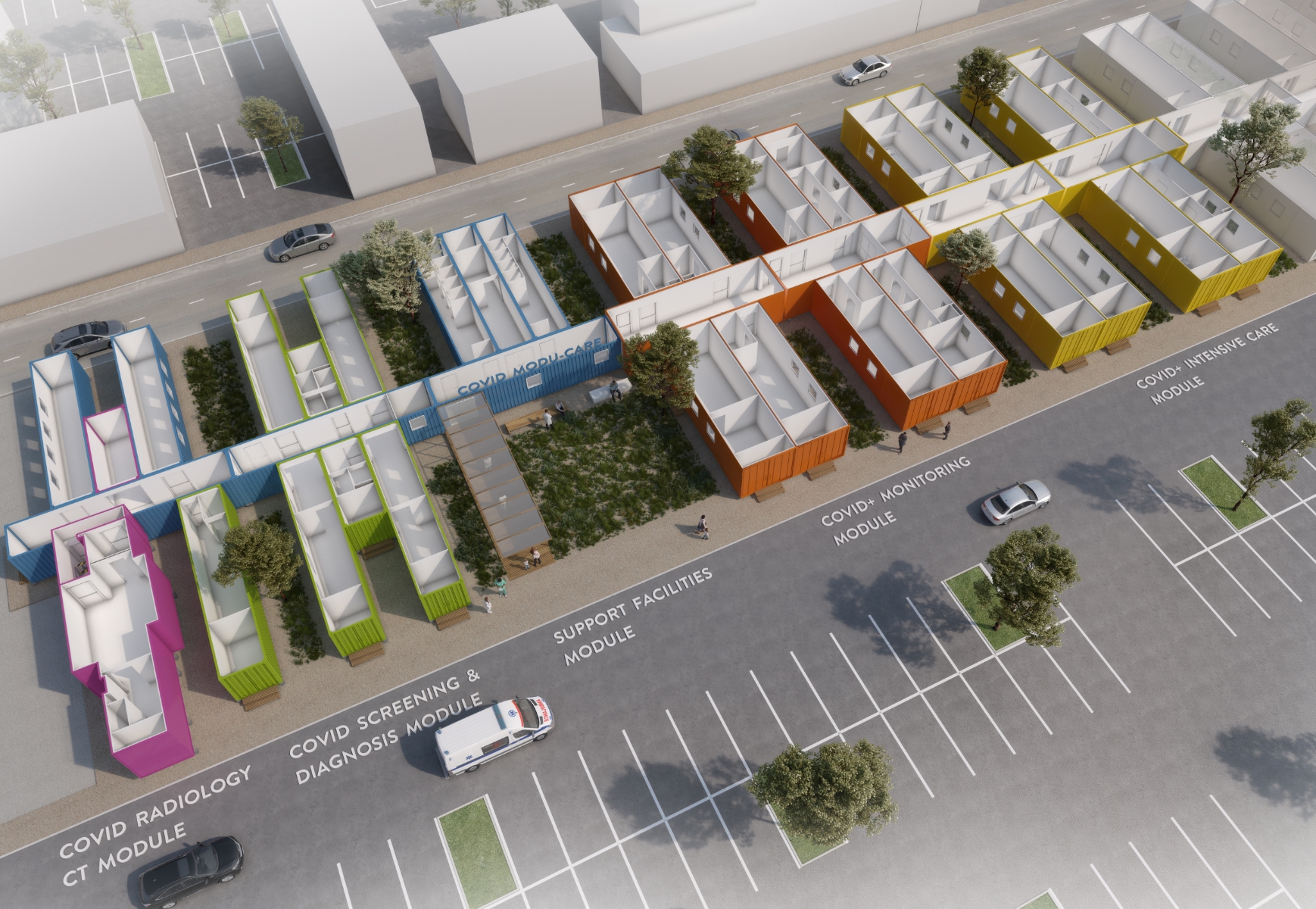 The COVID screening and diagnosis module is made up of a fully-equipped and entirely autonomous P2 molecular biology laboratory. Support containers can be added as needed (storage, reception, monitoring, triage, etc.).
The COVID monitoring module allows for 2-bed continuous monitoring rooms with all necessary support functions for a unit to operate in complete autonomy. Support modules are added to provide all necessary utilities for the operation of monitoring beds.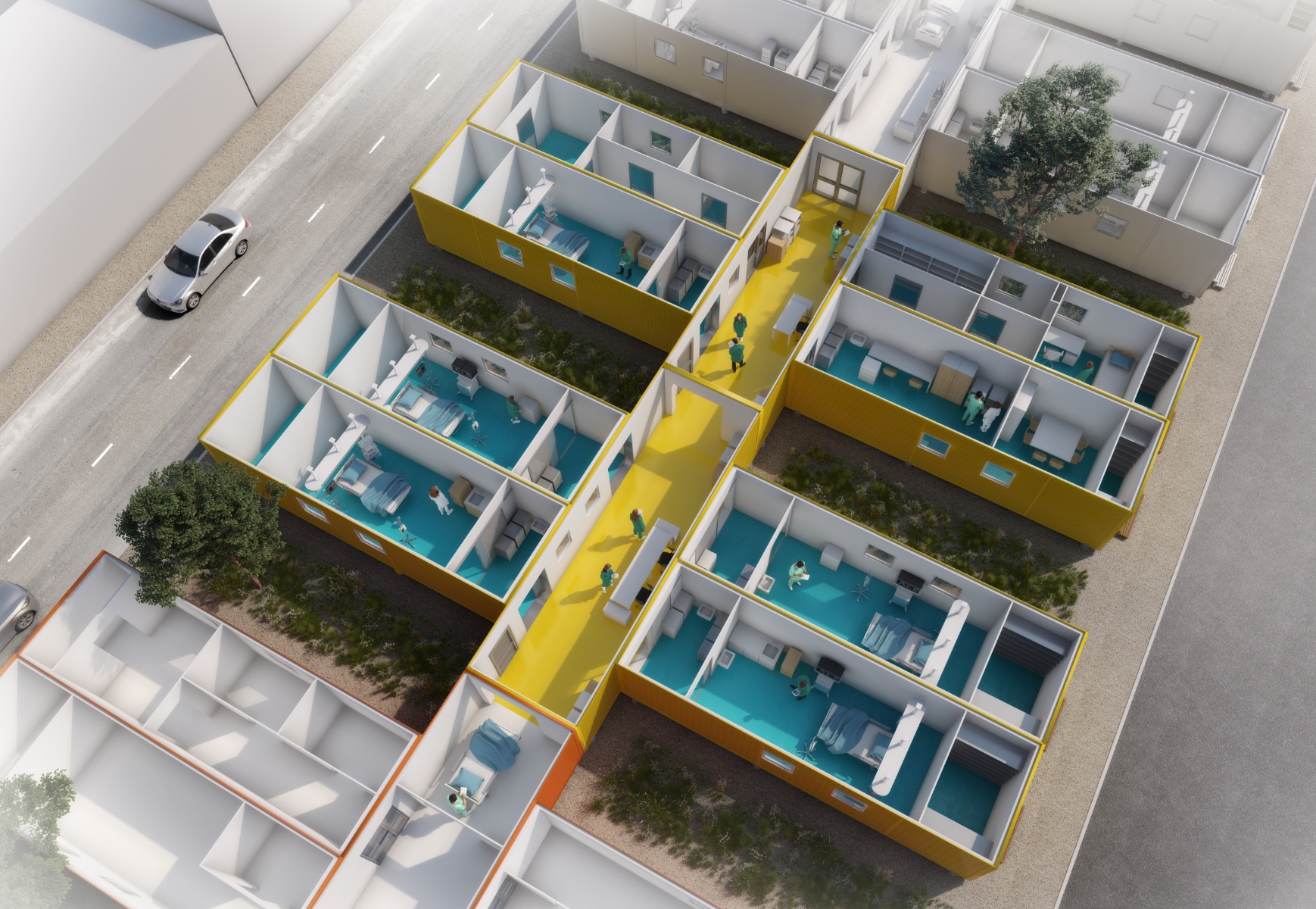 The COVID intensive care module allows for the installation of intensive care rooms with anterooms and equipped with all functions and equipment. This module has its own air treatment system, in accordance with NF EN 14-644.1. Here too, support modules are added to provide all necessary utilities for the operation of intensive care beds.
The COVID radiology module is equipped with a CT-scan integrating all functions and equipments. This radiology technique is the fastest diagnosis for COVID-19, especially for countries where the test kit is not available. The module provides follow-up exams for serious patients every 3 to 5 days highly recommended to report on the evolution of the pathology.
Independence and scalability
Each module can operate independently of the others. This is a major advantage and the primary distinguishing feature of our solution. The reproducibility and ease of adding modules as needed make it possible to create a custom field hospital within controlled lead times, and adapted to any geographical area.
Utility production modules (electric power generation, medical utilities, etc.) can be added and connected if needed to remedy any shortfall in the site's existing production systems.
Rapid deployment and safety of modules
The modules' robustness and ease of mobilisation make them an ideal solution for rapid deployment to any installation location. Because the modules are autonomous, any outage or failure will not affect the operation of the hospital as a whole. A core aspect of each module is LSB's BioGuard Concept, which uses easily decontaminable compact HPL panels meeting all utility needs for each function: ease of cleaning, high-quality air treatment considering the contagiousness of the virus, decontamination (H2O2) and the durability of the modules are all key strengths of the COVID Modu-Care solution.
Deployment on site is facilitated by the logistical experience of LCDE and LSB in implementing complex solutions in very short time frames.
The highly simplified implementation of the modules can be carried out in partnership with local companies or other organisations (armed forces, technical department, etc.) to enable the modular hospital's entry into service as quickly as possible.
The limited lead time for manufacturing the modules and containers and the possibility of adding new modules without altering the operation of those already active make our proposal a reliable and scalable technical solution.
Unprecedented know-how to combat the COVID sanitary crisis
To sum up, thanks to their expertise in hospital and medical engineering, LCDE, LSB and NEL architecture can provide healthcare establishments, their medical personnel and patients with solutions offering the following advantages and exclusive features:
Safety of medical personnel and solution tailored to each patient's care
Modular, configurable and scalable solutions
Fast implementation
Images ©Massimo Lombardi